Netflix is bringing up content to binge watch one after the other. Series and shows release back and forth as it produces movies and web series worldwide, Netflix India shows no fail.
With movies like Raat Akeli hai starring Nawazuddin Siddiqui and Radhika Apte released in July, Netflix India has a new offering to do. Gunjan Saxena: The Kargil Girl drops On August 12, To blow your minds with an awesome touch of patriotism with a twist. Who would think Janvi Kapoor after Dhadak would get such an opportunity to play a biopic of a well-known? Well of not well known, You should know it. Janhavi Kapoor plays Gunjan Saxena, the first Indian combat aviator to be sent in the Kargil War.
Karan Johar posted "With unabashed strength and bravery, she made her space in a man's world" as an emotion behind the movie. With Pankaj Tripathi adding a father-daughter moment the final poster said " Her pillar of strength, her father. He gave her the wings to fly!".
Earlier the film was scheduled to release on March 13, 2020. The COVID 19 pandemic has taken a toll on a lot of theatrical releases as we know, The release was yet postponed to April 24, 2020. The movie Gunjan Saxena: The Kargil Girl, The Key producers.
Dharma Productions and Zee Studios gave the distribution rights to Netflix. Finally, Netflix released the trailer and announced the movie is set to release on August 12, 2020.
Gunjan Saxena Movie Full Review
Gunjan Saxena Movie 2020. The movie is inspired by the biopic of Gunjan Saxena, the Kargil girl. She's being called the Kargil girl as she was the First Indian Female Officer commissioned to be in the combat zone of the Kargil war as an Air Force Officer.
Based on a 1999 movie, the struggles of a girl who dreamt of obtaining a domain in a man's world and how her supportive father gives her wings to fly to open the mindsets of people and to influencer other girls of dreaming big adds a bit of Women Empowerment added with a tinge of Patriotism.
The movie starts with Young Gunjan sitting on a plane with her elder brother Ayushman. As they fight for opening the window as Gunjan wants to see what's outside, we see her love and excitement when she sees clouds.
The air hostess takes her to the cockpit where she sees pilots flying a plane that sparks a desire in her to be a pilot. Years later, she completes her 10th with flying colors but is nervous to talk to her father about her dream of becoming a pilot.
As she returns home, she's welcomed by her family hosting a party for her success and suddenly the whole celebration turns into an awkward silence as she speaks about her dream of becoming a pilot. After 10th, after 12th, and graduating from Delhi University, she finally becomes applicable for the Academy she was aiming for.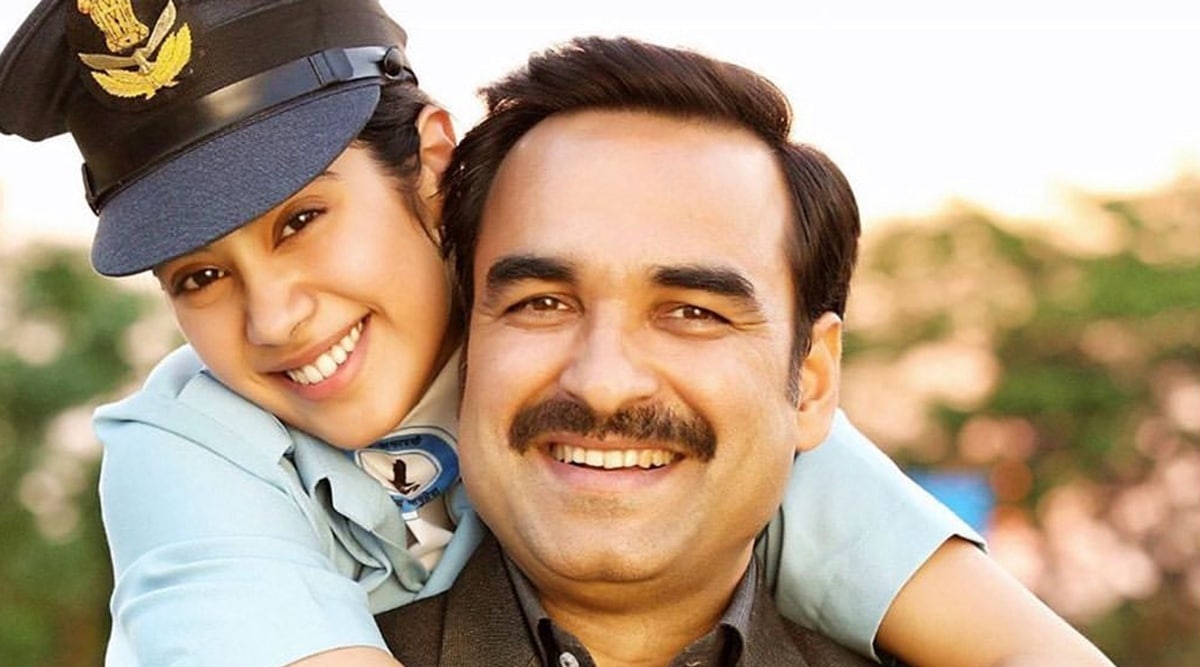 With her father's support, she finally fills the forms for IAF wherein she's the only girl selected for the training. But here lie other rounds of medical tests which later she gets rejected as she's 7 kgs overweight and one cm less in height.
Disheartened Gunjan returns home upset about what's going to come next. Gunjan's parents have a different outlook on life while Gunjan's mother wants her to get settled, Anup, Gunjan's father wants her to follow her dreams instead of being like every conventional lady settling for marriages. Her father motivates her to work hard and try on the things that are in her hand.
Finally, she starts working out and manages to lose weight just right. Finally, after a lot of conflicts about her height issues, she gets selected for IAF.
At training she goes through the harsh realities of a male dominant surrounding, where her flights seemed to be canceled because nobody wanted to teach or accompany her, her opportunities were canceled, her being the first female IAF officer she was not taken seriously.
Her life changed when one of the cadets supported her and started to train, to much delight finally her training took her flight. Frustrated with such treatments and female bashing, 
Gunjan applies for a leave and returns home, hopeless of her future as she has no idea what lies ahead.
Her leave application doesn't get selected and she had to return to her forces as the Kargil war awaits its best pilots. The nation needed her. She's finally sent in a mission of surveillance of the enemy, as two choppers towards the same mission, the first chopper gets destroyed with the pilots inside injured.
Gunjan is asked to abort the mission as she might not be able to complete it as the societal perceptions that say women do not belong to the battlezone. Gunjan takes charge of her responsibility and rescues the soldiers and her fellow pilots breaking all the social rules set by societies making her family proud.
Conclusion
Come on, 15 August is near guys! Celebrate the feeling of patriotism with Gunjan Saxena soon to be released on Netflix on August 12, 2020. The movie is scripted by Nikhil Malhotra and Sharan Sharma, Cinematography by R Dee.
The music score is given by John Stewart Eduri, adding Amit Trivedi as Singer. The movie is a one-time watch as we get to know so much about "Gunjan Saxena" and her story which is being delivered by Janhvi Kapoor just right.
"There can be no other way as a true story. We spent a lot of time looking into pictures of Gunjan mam to have a detailed vision of what to depict" Sharan Sharma. There's a lot that goes behind the making of Gunjan Saxena, watch what goes behind the making!
Though people expected a better performance by Jahnvi Kapoor, Pankaj Tripathi and Angad Bedi did a brilliant job being the best supporting roles. His deep voice and calmness add such an authenticity to the whole scenario that overall the movie is worth a watch!